These instructions were tested on a Motorola Moto G. Please keep in mind that Android is an open source platform, and as such many device manufacturers have slightly different versions that may affect how the setup process looks, and in some rare cases, the order in which it asks for information. However, the information is correct across all devices.


1) Go to the Settings icon on the home screen, and scroll down until you find the "Accounts" header, and tap on the "+ Add Account" line.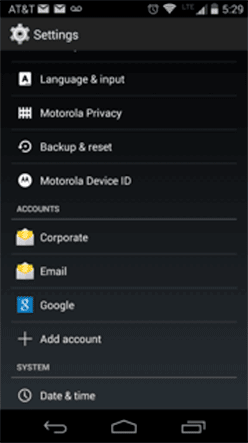 2) Select either Corporate or Email as the account type. Either one will work.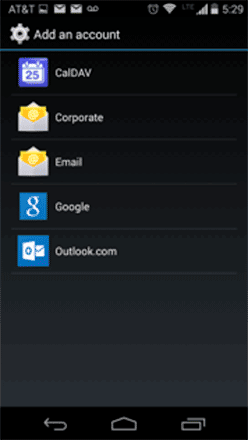 3) Enter the full email address for your account (such as example@prxy.com) and the emai password (same that you use to log into webmail or your email program). Do not press Next, instead press Manual setup.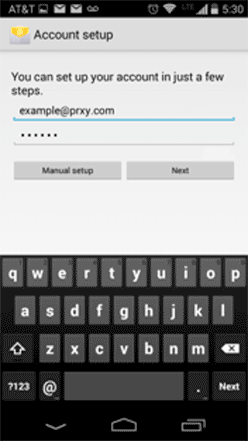 4) Select any of Exchange, ActiveSync, or Exchange/ActiveSync. They all lead to the same setup process, but some Android phones label them differently. There is typically only one of the three options per phone.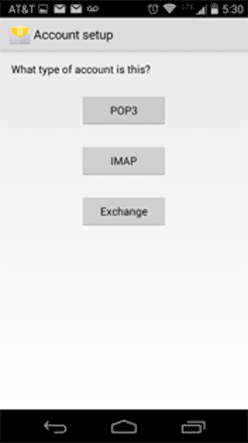 5) Enter all of the following information:
Domain\Username: full email address (such as example@prxy.com). Note: if Domain is a separte entry, leave it blank.
Password: This should have copied over from when you entered it in step 4. If not, enter it again.
Server: secure.prxy.com
Port: 443
Security type: SSL/TLS
Client Certificate: None.
Then click Next.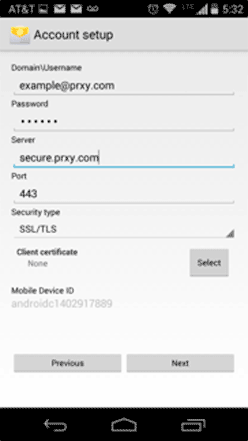 6) Once the account Validates against our server, you can change the account settings, including how often the phone checks the server for mail, and how many weeks' worth of email the phone stores. You can also enable or disable Calendar Sync, Contact Sync, and Mail sync, which can be re-enabled at any time. You can also set the phone to automatically download attachments when you are connected to Wi-Fi, or disable it if you do not look at attachments often.
Click Next.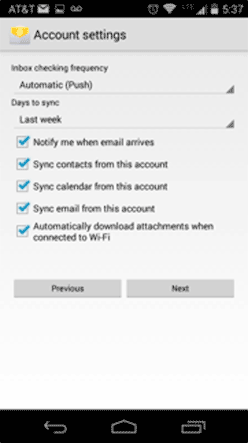 7) Name the account. This is simply the name that the account is referred to on your phone, and does not show up in the headers of your emails. I would recommend naming the account something that will easily distinguish it from any other email account you may set up on the phone.
8) Now that the account is created, you can go back to the home screen and open the Email App to begin using your email.